Continuous Terrorism
Hang on for a minute...we're trying to find some more stories you might like.
The terrorism doesn't seem to stop. It's a continuous reoccurrence between every county and many are wondering how it's going to be prevented. Recently there have been several terrorist attacks which include two in the United Kingdom and one in Kabul, Afghanistan. Each of these attacks are linked to some type of terrorism/terrorist group. The London Bridge attack was linked to Jihadi terrorists, the Manchester attack was linked to ISIS and the Kabul attack is suspected to be a Taliban attack although it isn't confirmed.
On May 22, 2017, in Manchester, England, a bomb went off at the end of an Ariana Grande concert held in the Manchester Arena. According to CNN, concert goers, many of which were children and teens, were leaving the venue around 10:30 p.m. Shortly after the concert, a suicide bomber killed 22 people and injured approximately 59 others. According to The Sun, the bomber Salman Abedi, packed his suicide vest with bolts and nails in order to injure as many people as possible. After that attack, Britain went on "lock down" and Britain forces were on patrol on many streets, according to DailyMail. Hours after the concert Ariana tweeted, "broken. from the bottom of my heart, i am so so sorry. i don't have words." Eleven days after the attack, Ariana visited the injured victims in the hospital. In addition to that, she also visited the families of the victims who passed away due to the bombing. Grande paid for the funerals of the victims, one of which was the youngest to die, who was eight years old. Trump commented on the attack in which he said, "I extend my deepest condolences to those so terribly injured in this terrorist attack and to the many killed and the families, so many families, of the victims. We stand in absolute solidarity with the people of the United Kingdom," as well as "So many young beautiful innocent people living and enjoying their lives murdered by evil losers in life. I won't call them monsters because they would like that term. They would think that's a great name. I will call them from now on losers because that's what they are." Her visit to the victims came only a couple days before her One Love Manchester concert which is dedicated to the victims of the Manchester attack. Many stars including Ariana Grande, Katy Perry, Justin Bieber, Coldplay, Miley Cyrus, and more contributed to the concert with many performances and encouraging words. Ariana has since resumed her touring schedule.
On May 31, 2017, a suicide bomber drove a truck through a highly secured diplomatic area in Kabul, Afghanistan that killed 90 innocent people and injured 463 others, 11 of which were Americans, according to BreitBart. "The terrorists, even in the holy month of Ramadan, the month of goodness, blessing, and prayer, are not stopping the killing of our innocent people," a statement from the office of Afghan President Ashraf Ghani. The attack happened near the U.S./NATO headquarters and the German Embassy which is in the Kabul Green Zone neighborhood, that of which is considered the safest area in the capital. It took place at the peak of Kabul's rush hour when the streets were packed with commuter, according to The Guardian. Authorities still aren't clear if the bomb was supposed to go off at the German Embassy or if it detonated prematurely. BBC said in a statement that one of its Afghan drivers, Mohammed Nazir, who was in his late 30s and had a young family, was killed in the blast. President Trump called Afghan President Ashraf Ghani shortly after the attack to give his condolences to the victims of the attack. According to TOLO News, Trump commended the bravery of Afghan first responders, who worked quickly to help the wounded. Sources said a truck used to empty sewage tanks had been loaded with 1,500 kgs of explosives. According to President Ashraf Ghani, this is the deadliest single attack to strike Afghanistan since the U.S. led invasion in 2001 to topple the Taliban.
On June 5, 2017, a trio of terrorists ran over several people in London, England with a van, they then continued to stab civilians in pubs and bars in Borough Market on Saturday night killing seven people and injuring 48 according to Telegraph. Khuram Butt, Rachid Redouane and Youssef Zaghba were heard shouting "This is for Allah" before they were shot and killed by police according to a witness statement. According to Telegraph, Khuram had appeared in the Channel 4 documentary The Jihadis Next Door, which warned of the rise of extreme Islam in London. He was shown posing with the ISIS flag in Regent's Park in central England. He was detained for the stunt but was released shortly after without being arrested. The three men were seen wearing suicide vests but was later discovered that they were fake. Khuram and Rachid were U.K. citizens but Youssef was not. Both Khuram and Youssef have previously been on watch for a terrorist threat but were low priority, according to Time. Trump tweeted after the attack, "We need to be smart, vigilant and tough. We need the courts to give us back our rights. We need the Travel Ban as an extra level of safety!" After receiving much criticism for that tweet, he then said "Whatever the United States can do to help out in London and the UK, we will be there – WE ARE WITH YOU. GOD BLESS!" While having a heated conversation on twitter with the Mayor of London, he then tweeted "Do you notice we are not having a gun debate right now? That's because they used knives and a truck!" It's hard to tell if Trump is genuinely showing sympathy toward London and it's victims, but overall I think anyone would.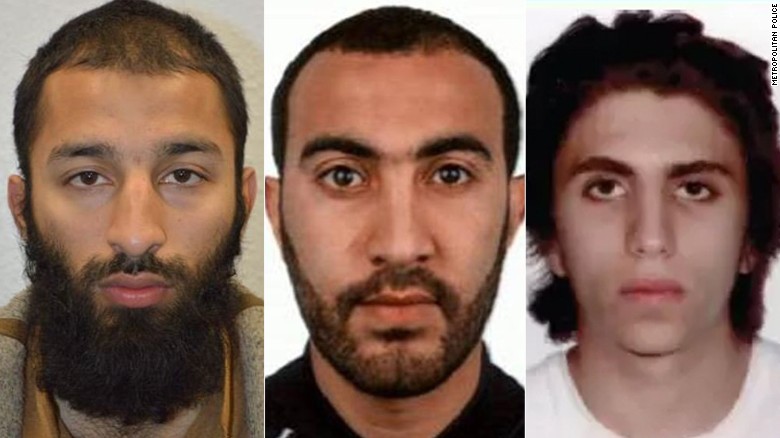 We certainly need to show love and support towards one another during these difficult times. Though hate is shown everyday, we as a society can outweigh it with love.
Works Cited:
Alexander, Harriet. "London Bridge Attack – Everything We Know." The Telegraph. Telegraph Media Group, 03 June 2017. Web. 14 June 2017.
"London Bridge Attackers: What to Know About Terrorist Trio." Time. Time, n.d. Web. 14 June 2017.
McKirdy, Euan. "22 Dead after Blast at Manchester Concert." CNN. Cable News Network, 23 May 2017. Web. 14 June 2017.
"(no Title)." The Sun. N.p., n.d. Web. 14 June 2017.o
Rasmussen, Sune Engel. "Kabul: At Least 90 Killed by Massive Car Bomb in Diplomatic Quarter." The Guardian. Guardian News and Media, 31 May 2017. Web. 14 June 2017.
Spillett, Richard. "Britain on Lockdown: Army Deploys 1,000 Heavily Armed Soldiers to Guard London, Parliament Is Closed to the Public and Changing of the Guard Is Cancelled after Theresa May Warns ANOTHER Terror Attack Is 'imminent'." Daily Mail Online. Associated Newspapers, 24 May 2017. Web. 14 June 2017.
"Trump Calls Ghani Following Deadly Kabul Attack." TOLOnews. N.p., n.d. Web. 14 June 2017.
20170, Edwin Mora31 May. "Ramadan Rage: Kabul Terrorist Bombing Kills 90, Injures Hundreds." Breitbart. N.p., 31 May 2017. Web. 14 June 2017.